---
Buy now!
CD Images (2008)
Works by Harry Crowl and Zoltan Paulinyi
Audio and bilingual CD-ROM (Portuguese/English) including all scores (in PDF).
Click on each music name to view its score.
For program notes, click on the track number.
Harry Crowl

[ 1 ]
Canto (4:43)

ISRC # BR-ZOL-08-00004

Violin: Zoltan Paulinyi

Zoltan Paulinyi

[ 2 ]
Acalanto n. 1 (2:23)

BR-ZOL-08-00007

Violin: Zoltan Paulinyi

Harry Crowl

[ 3 ]
Solilóquio III (13:43)

BR-ZOL-08-00005

Violin: Zoltan Paulinyi

Zoltan Paulinyi

[ 4 ]
Toada (8:34)

BR-ZOL-08-00009

viola pomposa: Zoltan Paulinyi

Harry Crowl

[5-6]
Cambiata
• Proposição (4:07)

BR-ZOL-08-00002

• Corolário (2:06)

BR-ZOL-08-00003

viola pomposa: Zoltan Paulinyi

Zoltan Paulinyi

[ 7 ]
Oblação (2:13)

BR-ZOL-08-00010

viola pomposa: Zoltan Paulinyi

Harry Crowl

[ 8 ]
As impuras imagens do dia se desvanecem (13:25)

BR-ZOL-08-00001

viola pomposa: Zoltan Paulinyi

Zoltan Paulinyi

[ 9 ]
Acalanto n. 2 (3:43)

BR-ZOL-08-00008

Clarinet: Felix Alonso / Violin: Zoltan Paulinyi.
[10]
Pluma (1:28)

BR-ZOL-08-00011

Bassoon: Iracema Simon / Violin: Zoltan Paulinyi
[11]
Biduo d'ouro (2:51)

BR-ZOL-08-00006

• Moderato e allegro
Bassoon: Iracema Simon / Violin: Zoltan Paulinyi
[12]
Brincadeira de Roda (3:10)

BR-ZOL-08-00012

Clarinet: Félix Alonso / Bassoon: Flávio Figueiredo
[13]
Jesus nailed to the cross (4:29)

BR-ZOL-08-00013

• Via Sacra scene XI
Clarinet: Félix Alonso / Violins: Karla Oliveto e Zoltan Paulinyi
(Total length: 67:01)
PRESENTATION
"As head of the Cultural Section of the Embassy of Brazil in Paris I had the pleasure and honour of presenting works by Zoltan Paulinyi and Harry Crowl to a French audience at Villa-Lobos Hall in 2008. 'Images', the most recent product of Paulinyi and Crowl's partnership, consists of pieces played by Paulinyi on violin and viola pomposa. The result is full of harmony, and I am sure it will rank among the finest pieces of contemporary Brazilian music."

- Ruy Amaral, Minister Counsellor.

---

"A very relevant artistic gathering: Harry Crowl and Zoltan Paulinyi.

Born in Belo Horizonte, Harry Crowl was first dedicated to learning both violin and viola. He was soon to become definitively interested in a very unique kind of musical composition. In that field, he nurtured and developed through time a musical language based on the most advanced aesthetical propositions of contemporary musical art. Taking the fine example of the works currently performed on this CD (The unpurged images of day recede, Cambiata, Chant, Solilóquio III) one notices that the composer's creative force lies on the challenge of using with great sense of balance the many possibilities of the instruments sound resources. His very elaborated and original writing values both the violin and viola's different technical resources. Such result is obtained without the use of a shallow virtuosity and the musical discourse is dense and poetic. In a few words: His writing for strings is that of a master. His achievements are highly noticeable. Harry Crowl has had his music performed through both live performances and recordings all over Brazil and abroad in countries such as France, Germany, Denmark, Austria, Slovakia, Slovenia, Romania, Bulgaria, Canada, USA, Mexico, Chile and many others. It is a more than deserved recognition.

Zoltan Paulinyi, also born in Belo Horizonte, has had his very successful career as violinist testified through both his public appearances and the recordings he has already produced. After having a broad experience playing the traditional repertoire, he found himself in contact with Brazilian 20th century repertoire by composers such as Camargo Guarnieri, Cláudio Santoro, Villa-Lobos and more specifically the violin preludes of our spectacular Flausino Valle (By the fire, Batuque, Country Wedding, etc…)
He further mastered a very attractive new music repertoire. With his talent and knowledge he brought to Harry Crowl's scores indisputably one of the finest technique and interpretation. As a composer, Zoltan Paulinyi presents on the Cd some of his most inspired pieces. Works such as Joke, Oblação, Lullabies 1 and 2, Feather, Golden Bi-duo, Via-Crucis, Rounds Game show his many talents."

- Ricardo Giannetti (English version by H.C.)
COMPOSERS
Harry Crowl: composer and musicologist
HarryCrowl@uol.com.br
Born in Belo Horizonte, Brazil, on October 6th, 1958, Harry Crowl took violin lessons in his native town before going to the US to continue his studies in viola and in composition under Charles Jones, at the Juilliard School of Music, New York. Graduate in English and Portuguese. Further composition studies under Peter Sculthorpe in Dartington, England. Post-Graduate studies in Semiotics at the Catholic University of São Paulo.

Living in Curitiba, southern state of Paraná, he is currently the Artistic Director of the Federal University of Paraná's Philharmonic Orchestra and Professor at the School of Music and Fine Arts of Paraná (EMBAP). Also produces and presents radio broadcasts on both classical and contemporary music for the State of Paraná Educational Radio.

Harry Crowl's production comprises all genres of instrumental and vocal music ranging from solo to orchestral, from songs to opera covering a range of more than 100 pieces. His music has been performed and broadcast all over Brazil and also in Chile, Mexico, Canada, USA, France, Denmark, Sweden, UK, Germany, Austria, Romania, Bulgaria, as well as in some other South-American and European countries, Asia and Africa.

As a musicologist, he discovered, compiled, edited and published some important late 18th century music by Brazilian composers of great importance to early Latin-American music.

Among the many ensembles that have already commissioned and performed Harry Crowl's music are "Grupo Novo Horizonte de São Paulo"(Brazil), "Ensemble Nord"(Denmark), "George Crumb Trio" (Austria), "Moyzes Quartet" (Slovakia), Romanian Radio Chamber Orchestra, "Trio Fibonacci" (Canada), "Camerata Antiqua de Curitiba"(Brazil), Paraná Symphony Orchestra (Brazil) and Orchestre de Flutes Français.
Born in 1977, started his musical studies when he was only two and a half. His first public appearance as a Ricardo Giannetti's pupil was at Ouro Preto Opera House, aged 8. In Brazilian and English festivals, he had classes with Ruggiero Ricci, Leopold La Fosse, Micaela Comberti, among many others. Studied composition with Oiliam Lanna, having masterclasses with Oscar Edelstein and Harry Crowl as well.

Paulinyi was spalla in festival orchestras of Juiz de Fora and Brasília, and presents solo works in Brazilian, English and Italian orchestras since 1987. He was awarded by the Press Critics in Minas Gerais States with the "Outstanding award 1998". He is also winner of the Goiânia National Competition (2002).

Among dozens of recordings, Duo MAGYAR (2002) is the first to include his compositions. Other notable releases are by Quinteto AMIZADE (2005) and Trio SONARE (2008). His works were played at Oradea Festival (Romênia, 2002) as a hommage to his 25 years of age; at FUNARTE Bienal (Rio de Janeiro, 2005); at Ensemble SPES european turné, which premiered some works in Spain, France, Hungary and England (2008).

Paulinyi undergraduated in Physics at the Federal University of Minas Gerais State (UFMG) in 1999 and moved to Brasília in the following year after winning a post in the National Theatre first violins section. Married to Iracema in 2006, with whom developes musical pedagogical works focused on babies, children and adults with young spirit.

Violin: venezian school of Sanctus Seraphin, around 1750 (restored by C.M. Del Picchia).
Bow: Carlos Martins Del Picchia, "Shield" 2002; "Swan head" 1996 (for the Acalantos).

viola pomposa: 5 stringed Guadagnini's model 1765 by Carlos Martins Del Picchia, 2006.
Bow: Pfretzschner.
COMPONENTS
Félix ALONSO (clarinet)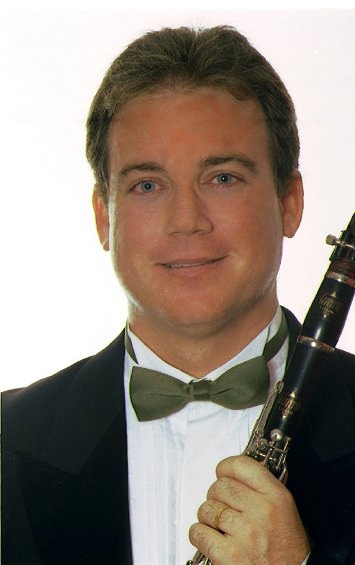 FelixAlonsoMorales@yahoo.com.br
Born in Cuba, he started his clarinet studies with prof. Roberto Medina, receiving degrees in performing, teaching and chamber music in the Havana National School of Music (1994). Aged 13, he performed Weber's Concertino with Matanzas Symphonic Orchestra, where a few years later he would be the first clarinetist. He won two awards in the Amadeo Roldán Clarinet Competition, in Cuba (1989 and 1991). He has travelled twice to Spain (1994 and 1995), touring with the orchestra and recording two discs. He is a player of Quinteto Amizade (with a CD released in 2005), and of Quinteto Brasília, (a CD "Brincadeira a Cinco" to be released). He is currently a teacher at Brasília Music School and CEUB School.
Clarinete: Buffet Crampon.
Flávio Lopes de FIGUEIREDO Júnior (bassoon)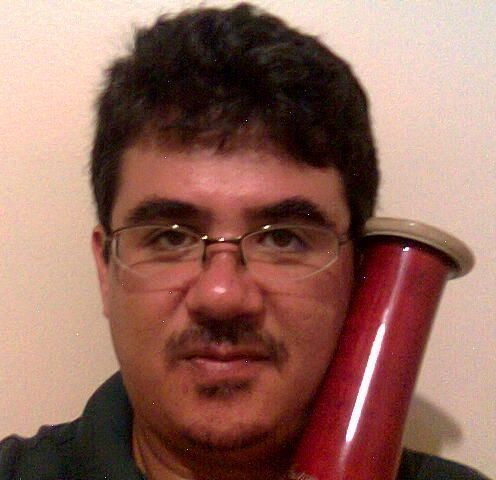 psimusflavio@yahoo.com.br
Born in São Paulo. Started his musical studies in 1980 at Lira Américo Pascoali (Águas de Lindóia). He had studied the bassoon with many teachers (Noes Devos, Clóvis Franco, Alejandro Aizemberg e Afonso Venturieri) and undergraduated in Music/Bassoon at University of Brasília, under Hary Schweizer. He played in many orchestras, as the Young Dr. Carlos de Campos Conservatory Youth Orchestra of Tatuí, Sorocaba Municipal Symphonic Orchestra, Goiás Phylarmonic Orchestra, and contrabassoonist at São Paulo State Symphonic Orchestra. He was bassoon teacher at School of Music and Performing Arts at Federal University of Goiás, and bassoon teacher and conductor of the Symphonic Band of Brasília Music School. Since 1991, he is a component of Claudio Santoro National Theatre Symphonic Orchestra, where he premiered in 2006 the Fernando Moraes' Concertino for Contrabassoon and strings. At the same year, he played in the Hary Schweizer's CD recording "Com Licença!". He also is bassoonist at Brasília Wind Quintet Ensemble, and Clarinet and Bassoon Duo.
Karla OLIVETO (violino)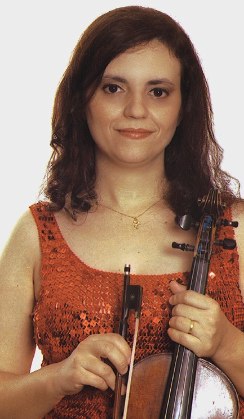 KarlaOliveto@yahoo.com.br
She has a master degree in music by UnB (University of Brasília, 2007), the same institution where she undergraduated in Violin (1997) as Ludmila Vinecka's pupil, in Music Teaching (2000) and in Chamber Music graduation (2002).
She started her studies in 1983 at Brasília Music School where she obtained the title of "Expert on Violin" in the class of prof. Marena Salles. She attended to many masterclasses in Brasil and Portugal. She performed as solist under maestro Emilio de Cezar and Elena Herrera, and was invited to play at Matanzas Symphonic Orchestra in 1997. She recorded a Brazilian music CD called "Rabeca Moderna" (2002) and another CD "Quinteto AMIZADE" (2005). She currently teaches violin playing in Brasília Music School.

Violin: presumed Justin Derazey, around 1880.
Bow: Sáránszky Pál, from Paulinyi's collection.
Iracema SIMON (bassoon)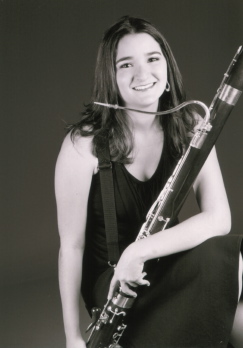 IrinhaSimon@gmail.com
She forms the Duo SPES along with Paulinyi since 2006, working mainly on pedagogical projects and focusing on brazilian repertoire. She plays weekly at Mother of Divine Mercy Parish in Brasília.
Player since 1993, Simon started teaching music to children in 2003 as Choir Rouxinóis assistant. She was head of the recorders section of the "Music for children" project at the Brasília University (UnB) until 2007. Since 2008, she teaches music at INEI.
Bassoon: made by Hary Schweizer in 2002, number 34.
---
PROGRAM NOTES
Click on each title to view its full score.
for violin

Canto was composed in 1981 during a music winter festival in the historical town of Diamantina.. It hovers around an idiomatic discourse heavily marked by an atonal language, which develops through an unmistakably continuous variation technique. The piece is dedicated to Edson Queiroz and it was premiered in 1990 by Ricardo Giannetti.
for violin

Written for Carlos Del Picchia's daughter. He is the violin maker who gave the life blow to the instruments played on this present recording.
for violin

This is a composition based on a pre-established structure in contrast with the previous ones. Solilóquio III displays the form of a response in the church music sense. These responses were very common works especially within the Catholic tradition countries during the 18th and 19th centuries. The fore mentioned formal structure is A-B-C-B-A where sections B are very similar due to the use of composite tempo formulae such as 6/8, 5/8, 7/8, etc.The use of such formulae gives the music in these sections an almost classic lightness. This is an extremely technically complex piece, which requires the use of all idiomatic possibilities of the violin. Solilóquio III is preceded by Solilóquio I (1995) for sax tenor and, Solilóquio II (2000) for cello. It is dedicated to Atli Ellendersen who premiered it during the Summartónar Festival, in the Faroe Islands, in 2006.
variations and theme for viola pomposa

A song sprouts from a soul working at the countryside. It is not alone, but joyfully surrounded by the nature agitation. Composition inspired on Marlene Godoy's pictures, aiming a contemporary art absolutely rooted on Brazilian culture.
for viola

It was premiered on the same occasion "Canto" was. It was then adapted for solo violin to be performed by Ricardo Giannetti. In "Cambiata", the formal unity is achieved through the recurrent use of a Gregorian chant-like melody throughout the piece. The fragmented grace notes that appear in some moments the regularity proposed by the original Gregorian line. A constant alternation of discourse between old and new figures gives this work its ambivalent character.
for viola pomposa

A musical prayer, which the melody penetrates the soul's most intimate area and raise all personal offerings to God's throne. Piece inspired during a meditation moment before the beginning of a mass in July 2007.
"The unpurged images of day recede", for viola pomposa

"The unpurged images of day recede" is the opening verse of William B. Yeats'symbolist poem "Byzantium". This piece is a musical journey into a night inhabited by memories, many of them of fantastic nature. Virtuosic elements give support to this sound trajectory, which follows an endless line full of surprises without any return to its starting point. This work was composed for the Canadian violist Laura Wilcox and it was first performed in 2008, in Brasilia, by Zoltan Paulinyi.
Berceuse, for violin and clarinet

Composition written to Félix Alonso and Karla Oliveto's daughter. It's theme associates a note to each letter of her name.
Plume, for violin and bassoon

A free counterpoint whose theme associates anote to each syllabe of "Maria & Francisco Capelão".
version for violin and bassoon

This piece is about the two paths one has to choose in life between the Fantasy and the real world: the right or the evil one. This piece was originally written as a violin duo for my pupils, later adapted to many other instrumental combinations.
for clarinet and bassoon

"Whoever humbles himself like this child, he is the greatest in the kingdom of heaven."- Mt 18,4.
Theme with variations where the music plays with itself.
VIA–SACRA

for two violins and clarinet

A view to the Cross timber and its nails.
"And when they were come to the place which is called Calvary, they crucified him there; and the robbers, one on the right hand, and the other on the left. And Jesus said: Father, forgive them, for they know not what they do."
Lk 23, 33-34a.
---
SPONSORS
We are very thankful to our sponsors, without whom it would be impossible to dream and spread joy through music!
ORMIMAQ
Tel.:(31)3275-4477
FAX: (31) 3275-2454
R.Goitacases, 1440 - Barro Preto
Belo Horizonte - MG - CEP 30.190-052
ormimaq@hotmail.com
---
ABOUT THIS RECORDING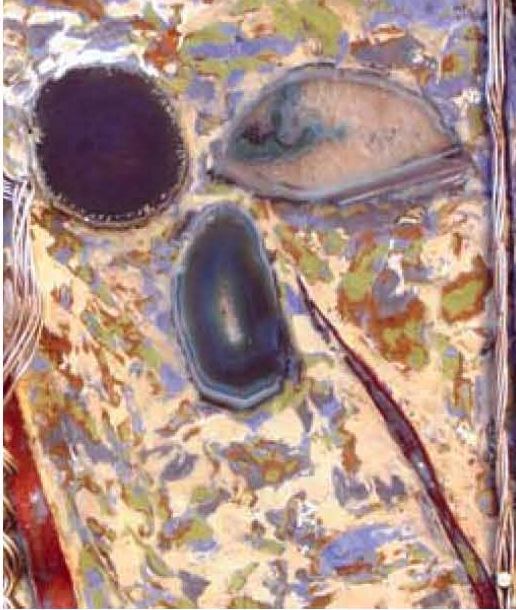 Recording: Ricardo Nakamura, Boy's studio, Brasília, June 2008.
Booklet: Cecília Esteves - Master Disc.
Translation: Harry Crowl and Zoltan Paulini.
Homepage: PROjECT z
Pictures: Marlene Godoy (Imagens - frontpage / São José Operário - p. 2 / Flores - back);
Iracema Simon (Máscaras de carnaval);
Zoltan Paulinyi (Hyper-realism I)
Photographer: Rui Fachini and Sônia Guerra for Marelene Godoy's works, Iracema Simon and Zoltan Paulinyi for their own works.
Sponsors: Ormimaq & Duo Magyar
Thanks to Maria Vitória and Francisco Capelão and their family, and all who helped us in this project! Special thanks to my family and wife, and to all friends who recorded with me! This recording finnished at June 29, 2008, St. Peter and St. Paul's Day!
---